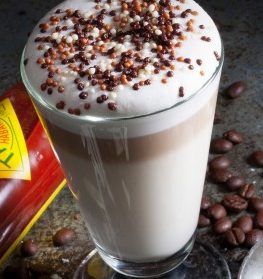 Sprinkle some chocolate love on top of your desserts & drinks!
This new garnish is another item in the growing family of the Callebaut Crisp pearls…rice crunch covered in chocolate!
These are a mini version of the pearls and are a mix of milk, white & dark mini pearls.
These are great for a garnish for coffee and hot chocolate drinks or for pastry toppings.
Mini Chocolate Crispearls™ come in a handy sprinkler for you to top off your glazed cakes, pastries, cream-topped drinks or desserts with one twist. Mixed into chocolate mousse, ice cream or bavarois, they add a crispy chocolate texture to your desserts and remain deliciously crunchy.
Contains: soy, wheat, dairy
425 grams per jar. (15 oz)
$20.00